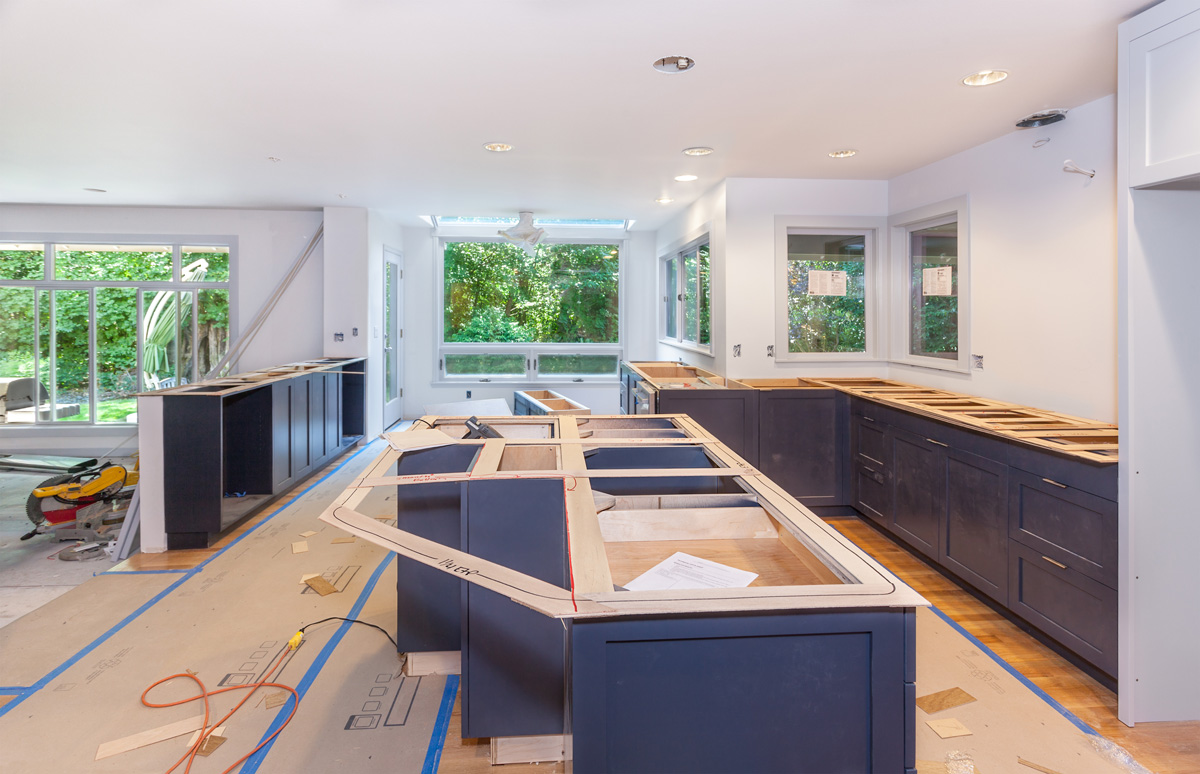 If you're thinking about remodeling your El Paso kitchen this spring or summer, now is the time to start thinking of ideas. Whether you know exactly what you want to do during your kitchen remodeling project or need inspiration, you've come to the right place. Kitchen trends are ever-changing, so it's important to be on the cutting edge of what's in and what's out. 
If you are in need of a new kitchen to elevate your El Paso home, ROI Home Remodeling is here to help. Contact us online or call (915) 615-7642 for a consultation.
Pull Out Vertical Drawers 
If you're remodeling your kitchen, new cabinets may be one of the top items on your list. If so, it's important to utilize every square inch of your cabinets and leave no space unused. One of the best ways to do that is by installing one or more pull-out vertical drawers. You can use these drawers for anything from spices to baking supplies to trays and pans. 
A Farmhouse Sink 
A farmhouse sink is another great addition to any kitchen remodeling project. Farmhouse sinks are extremely convenient and will make for a more functional kitchen. Additionally, because of how popular they've become in recent years, there are tons of different designs, styles, and color options for farmhouse sinks. 
Features For Your Pet 
Recent polling has shown that pets, specifically dogs and cats, in the home are more popular than ever. If you want to go the extra mile in making your furry companion feel at home, pull-out storage compartments for their food, as well as food and water dishes, are a great addition. You'll also be pleasantly surprised at how much cleaner and less smelly your kitchen is! 
A Steam or Double Oven 
If you're an avid chef who likes to entertain and try new cooking techniques and recipes, you can't go wrong with a steam oven or double-stacked oven. 
Built-In Refrigerator 
In addition to being an eyesore, refrigerators are also bulky and take up a ton of precious space in your kitchen. ROI Home Remodeling can take care of that problem by building a nook for your fridge so that it's built into the wall and out of the way. 
A Range That Means Business 
In addition to adding a steam oven or double oven to your kitchen, you should also add a commercial range during your kitchen remodeling. Commercial ranges not only look better than residential ranges, but they also have more power and cooking potential. 
Plenty of Lighting 
One of the most common themes of older homes is that they have terrible and inadequate kitchen lighting. This can make it difficult to cook meals and prepare food, as well as take away from your kitchen aesthetics. 
Coffee Bar or Bar Sink 
Bar sinks are a great way to add an extra sink to your kitchen that's out of the way and is meant strictly as a food prep area. You can also opt for a coffee bar if you're a bit of a coffee junkie and want a dedicated coffee area. Or, depending on how much space you have to work with, you can have both! 
Pantry Drawers 
While pantry drawers might not sound overly fancy or glamorous, you won't be able to imagine life without them once they get installed during your kitchen remodeling. No longer will you have to remove container after container just to get to the one thing you're looking for. 
The Top Kitchen Remodeling Company in El Paso 
If you want one or all of these things done during your kitchen remodel, look no further than ROI Home Remodeling. As one of the top home remodelers in the Southwest, we can handle any modification or addition you're hoping to make. Contact us online or call (915) 615-7642 to learn more.