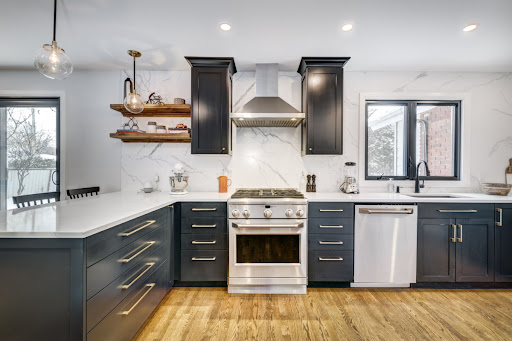 As you remodel your kitchen, you will come to see that you have an array of decisions to make. For example, will you install sky-blue cabinets or use more neutral colors? Will a stone or wood countertop meet your style preferences better? Should you purchase high-end appliances or ones that are more affordable? And, of course, you can't forget you will need to choose a style of sink, flooring, backsplash, window trimming, and so much more! It can all feel overwhelming. Fortunately, you don't have to make these decisions on your own. Our team of expert designers and kitchen remodeling contractors in El Paso, TX understand what it takes to marry design elements to create a gorgeous kitchen you will never want to leave.
Today, we're sharing the basics of three categories of kitchen designs to help you narrow down the number of choices you need to make. Find out if a traditional, contemporary, or transitional kitchen style is best for you.
Traditional Kitchen Style
Traditional-style kitchens feature classic design elements and often appear on the simple side, allowing key features to act as bold accents. In traditional kitchens, you will typically find detailed design elements, such as crown moldings, corbels, and framed cabinets. Also prominent in this kitchen style are hardwood floors, stone countertops, antique fixtures, decorative lighting, and glazed or stained cabinets. These kitchens are often described as charming, elegant, and timeless.
Because of their neutral color schemes and natural design elements, traditional-style kitchens can easily blend with the decor of the rest of the house. They can also support pops of color from fresh bouquets to kelly green backsplash or deep blue window treatments.
Contemporary Kitchen Style
"Sleek" and "clean" are two popular words to describe contemporary kitchen designs. This is because this style of kitchen focuses on function and simplicity. Appliances are typically stainless steel, kitchen cabinets are often frameless, and there isn't any intricate molding in sight. It's all straight lines and no fuss.
That's not to say contemporary-style kitchens do not make a bold statement. In fact, their simplicity allows homeowners to incorporate stunning design elements without being flashy. For example, they can combine open shelving with bold-colored cabinets or light up the space with steel fixtures and exposed wire pendants. The options are truly endless.
Transitional Kitchen Style
If you like design elements from both traditional and contemporary style kitchens, then a transitional kitchen is the one for you. Transitional style kitchens allow homeowners the freedom to pick and choose elements they love and create a unique design. Depending on the elements selected, this can include frameless cabinets with wood countertops or intricate molding and industrial-style lighting. Most often, a transitional kitchen will feature shaker-style cabinets, stainless steel appliances, glass tiles, industrial-style light fixtures, and a limited color palette.
How to Choose a Kitchen Style
When deciding on a kitchen design style, you need to consider a few different factors, including your personal style preferences, your habits and lifestyle, the rest of your home's decor, and the size of your space. Once you consider these factors, choosing a kitchen style will be much simpler!
Are you ready to finally upgrade your space into your dream kitchen? ROI Home Remodeling is here to help! Whether you know which kitchen style you would like to model your culinary space after or you feel in the dark, our interior design experts will take your visions and turn them into reality.
Contact us today for an estimate on a kitchen remodel! And if you're interested in renovating your entire home, we can provide a customized quote for a full bathroom redesign, media room remodel, or home addition!